The Paul Tamblyn award is a perpetual endowment within Sing Canada Harmony, seeded by the bequest of Ontario district barbershopper, the late Dr. Paul Tamblyn. Tamblyn's lifetime passion for excellence in training for choral and barbershop leaders and directors lives on through his endowment and the endowment continues to grow as family and friends honour Tamblyn's name with additional gifts to Sing Canada Harmony. The Endowment currently supports an annual scholarship award of $1000.00. At least one scholarship is awarded annually. The Dr. Paul Tamblyn Music Educator Scholarship is awarded to a choral director who has made a significant impact on the development, promotion and improvement of choral directing and performance in Canada, with preference given to those involved with a capella choral groups.
Year
Award Winner
2017
Jeff Joudrey – Founder, Halifax Camerata Singers

June Dale – North Metro Chorus, Region 16 SAI

2016
Hart Godden – Regina Symphony Chorus
2015
Randy Peters – Calgary Foothills Chapter, Evergreen District BHS
2014
Dave Campbell – Seaforth Harmony Kings, Forest City Fire Chorus, Ontario District BHS
2012
Dan Austin – Guelph Collegiate & Vocational Institute, Ontario District BHS
2011
Ken Holzer – past member of Regina Chapter, Land of Lakes District
2010
Betty Jean (BJ) Vermue – Harmony Inc., A Cappella Showcase
Nominate a choral director for this award – Download Application Form
About Paul Tamblyn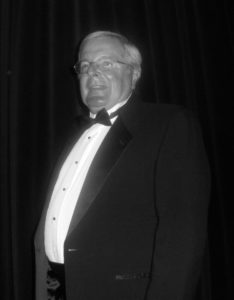 In life, in health, in illness and in his tragic early death from cancer, Paul was giving and encouraging in every way. In every endeavour he gave of his knowledge, experience and his worth to all he touched. In the end, he chose to extend his giving beyond his death with the gift of an endowment to Sing Canada Harmony for the advancement of educators in Barbershop (a Cappella) singing.
As a high school teacher, vice-principal and principal his students proudly hailed Paul as "Doc"; a reflection of his extensive studies at the University of Guelph, where he had received a BSc in agriculture in 1966, then an MSc in 1968, and finally a PhD in 1971. As a musician, he engaged his students in highly successful productions of Broadway Musicals over the years. His effective and caring work would be rewarded in 1993 with the Prime Minister's Award for Teaching Excellence.
Paul discovered Barbershop Singing in the early 1980's. It was simply in his character to bring his positive and caring teaching and mentoring abilities into his enthusiasm for barbershop. In his chorus and quartet singing, his chorus directing and his leadership teaching, no one epitomized positive reinforcement quite like Paul did. As he broadened his reach as a member of the faculty of Harmony University and then as International Chair of the Chorus Director Development Committee his influence extended throughout North America and beyond. Always, he enthusiastically and gently enhanced the ability of all the singers, directors and leaders he encountered. And through his endowment, he continues to do so with each and every award from the Dr. Paul Tamblyn Music Educator Scholarship.
Paul was posthumously awarded the "Joe Liles Lifetime Achievement Award". The award was received by his widow, Doreen Hartley at the 2010 International Barbershop Harmony Convention in Philadelphia PA. The citation follows:
For contributions to the barbershop art form as director, educator, coach and leader;
For wonderful mentoring and nurturing of students, educators and barbershoppers everywhere;
For inspirational and motivational insights into positive reinforcement and the ability of everyone to lead and encourage;
For inspiration and leadership in the efforts of the Society to encourage and educate its music directors;
The Chorus Director Development Committee of the Barbershop Harmony Society proudly presents to Paul Tamblyn the Joe Liles Lifetime Achievement Award
Presented July 2, 2010